Windows domain Active Directory (AD) users
A huge feature of CompleteFTP is its seamless integration with Windows Active Directory. This is fundamental for businesses whose extended network comprises hundreds of computers and users, all of whom require secure authentication and authorization via a layer of various permissions.
CompleteFTP offers Windows Active Directory functionality
CompleteFTP offers Windows Active Directory (AD) functionality in our excellent Professional and Enterprise Editions. All of our editions offer Windows authentication, but we have reacted to our customer's needs and have now included Windows AD with our top 2 editions.

For most businesses and enterprises today however, more flexibility along with exacting permission hierarchies are required, and both our outstanding Professional and Enterprise Editions offer your administrator the capability to map different AD groups and to configure AD authentication according to the rigours of the modern setup.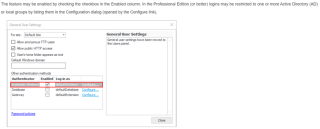 Of course we like to offer our customers the best user experience and with our Professional and Enterprise Editions, you also have more scope and are able to authenticate users on a Windows domain (or the local NT account database), even if the computer on which CompleteFTP is installed on, is not the domain controller.

Whether Insurance, IT, Banking, Retail or Building - CompleteFTP Windows AD functionality will help your admin team to keep your business moving forward whilst providing a safe and secure environment where access permissions are controlled with ease through CompleteFTP's great user friendly interface.