Monitoring and logging capabilities
CompleteFTP has comprehensive monitoring and logging capabilities. Built with the needs of administrators in mind and puts the logging and monitoring demands of your business firmly into your hands. Below are just some of the many options available:
Real-time logging
Connected user details
Auto-banned IP addresses
Auto-banning information
TCP Port Usage
Real-time logging
With real-time logging capability at your fingertips, you can monitor your server's file transfer activities with ease. You are able to filter a comprehensive log to only show the category, user or session, which you wish to oversee. You can even set the real-time logging level from all-inclusive to basic details by setting one of four levels: Error, Warning, Information or Debug.
Moving over to the 'Log Files Tab', here you are able to collate audit or diagnostic logs, an ideal feature which is very useful for support and troubleshooting purposes. Here the server logging level can be set using one of 6 levels: off, error, warning, information, debug and all. Our auditing function is also available here.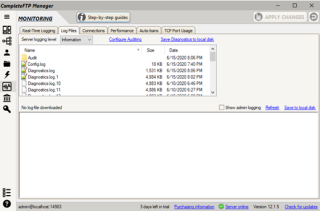 Performance statistics
The next tab is Connections and here you have the option to kill selected connections or all connections when necessary. Jumping over to the next tab we have Performance stats. Here you will see one of the most comprehensive and complete menus found in any file transfer server software. The menu allows you to filter the stats you need. Our Auto-ban tab lets you permanently ban selected IP Addresses, as well as remove any auto-bans which you wish to lift. Finally, we have our TCP Port usage tab. An essential tool for monitoring which processes are tying up your port range.

All editions include monitoring capabilities, but for the most comprehensive feature set, consider our Professional or Enterprise MFT edition.