Auditing of user activity
IT departments have many challenges, not least being the pressing need to monitor and log activities for security purposes. CompleteFTP is one of the top competitors when it comes to broad spectrum logging of your business's file transfer activities. Our auditing capability is an essential addition to the already well equipped logging interface of our CompleteFTP Professional and Enterprise Editions.

Monitoring logs is vital, helping admins keep track of user logins and logouts, reviewing what data is being distributed, and assessing trends in your overall file sharing projects. With our simple to use Auditing configuration tab you can easily set up audit logging, so you can start auditing today.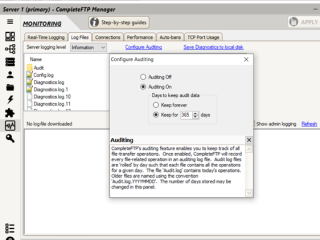 Storing Log ins
The great advantage of our auditing capability is that you are able to store the log ins line with your available disk space and for as many days as you wish.

Don't get caught short by choosing a less than adequate File Transfer solution which promises much but delivers little. We have been developing our file transfer software now for over 15 years and have incorporated some of the best logging features available into our exemplary CompleteFTP product.