File Sharing
CompleteFTP Professional and EnterpriseDT support file-sharing. Files may be shared either from within the Web file manager or using the CompleteBox Windows app. A shared file may be accessed via a web link and may optionally be protected with a password. The web link can be copied-and-pasted into an email or sent via IM, allowing the recipient to access the file. This is a fast and efficient way to share files of any size, including extremely large ones. Users don't even have to wait for the file to finish uploading before sharing the link, as CompleteFTP allows it to be downloaded as it's being uploaded.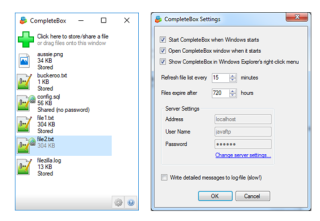 CompleteBox, the perfect companion for CompleteFTP
Easy to install, CompleteBox allows users to share files by a simple drag-and-drop operation, file selection dialogue or via the Windows File Explorer. Sharing a file uploads it to your CompleteFTP server, and generates a link which can be sent to anyone who you wish to give access to the file - inside your organization or externally. The link can be password protected, enabling secure sharing when safekeeping is a priority.
CompleteBox is included with our Professional and Enterprise MFT Edition. It is installed independently on client machines. Our Professional Edition comes with 50 CompleteBox licenses included, whilst our Enterprise MFT Edition offers you 1000 licenses for you to distribute to your important clients.
Importantly, sharing links can be set to expire after a pre-set time period. CompleteBox is a very useful addition to CompleteFTP and makes it definitely worth upgrading to the Professional or Enterprise MFT Edition.
Find out more about how you can use CompleteBox.