CompleteBox file sharing
Share files with our CompleteBox Windows app. Easy to install, CompleteBox allows users to share files with the server by a simple drag-and-drop operation or via the Windows File Explorer context menu! The files can be quickly stored on the server with CompleteBox, or you can use it to store a file on the server and then generate a sharing link in order to share your work quickly and efficiently with your co-workers. The link can be password protected enabling secure sharing when safekeeping is a priority. Great for backing up files to the server, it also has a dual function: file synchronization allows the same files to be uploaded from one site and downloaded at a different destination.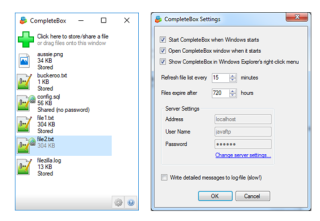 CompleteBox the perfect companion for CompleteFTP
This incredible utility comes included with our Professional and Enterprise Edition. It is installed independently to CompleteFTP. Our Professional Edition comes with 50 CompleteBox licenses included, whilst our top Enterprise Edition offers you 1000 licenses for you to distribute to your important clients.
CompleteBox settings are straightforward, simple, and easy to use, allowing the user multiple ways of sharing, including drag and drop, browsing from CompleteBox, or through file explorer's right-click menu. The server address can be changed when needed, and the availability of files stored on CompleteBox can be set to expire for use after a preset time has been reached.
CompleteBox is a unique, useful addition to CompleteFTP and makes it definitely worth upgrading to the Professional or Enterprise Edition.
Find out more about how you can use CompleteBox.