Process Triggers
One of our most powerful features is the ability to set process triggers for numerous events in CompleteFTP. This exceptional capability offers some of the best configuration modifications available with a file transfer server. You will need either our CompleteFTP Professional or Enterprise Edition in order to take advantage of this feature.
Highly Customizable Process Trigger Interface
The highly customizable process trigger interface allows you to set up triggers for a range of different events including the following:

Upload / Download File
Move / Delete File
Create Folder
Move / Delete Folder
Login / Logout
Scheduled triggers
Server Start / Stop
Site Start / Stop (Enterprise only)
Auto-Ban
SSL Certificate Expiring / Expired
Cluster Synchronization failed (Enterprise only)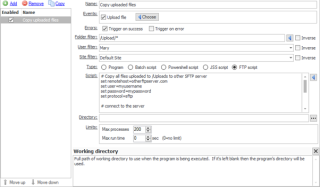 The fantastic filtering components allow you to set folder or user filtering, and in our Enterprise edition you can even set a site filter. The trigger can be set to run a program or a script including, Batch, Powershell, JSS or FTP scripts. You can also set the maximum number of concurrent processes, and the maximum run time.

Whatever your requirement, whether to monitor employees for security purposes, facilitate your logging processes or simply for a general email alert, our process triggers put you in the driving seat as you oversee your server.

Find out how you can set up Process triggers.