Multiprotocol gateway
Our protocol translating gateway is an extremely powerful feature that enables communication between systems using dissimilar file-transfer protocols. With this feature, available only in our Enterprise MFT Edition, you can configure CompleteFTP to present any of its own protocols to a client, whilst translating them to a different protocol so that it can communicate to another server on your local network: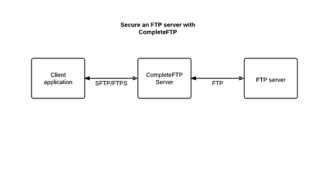 Set up CompleteFTP to proxy the requests
From connecting an office or home intranet to the Internet, to implementing a proxy solution and a firewall in your Enterprise environment, this feature opens up multiple possibilities. For example you have customers, clients or users who are still using FTP or FTPS legacy clients but wish to connect to your SFTP server, all you need to do is to set up CompleteFTP to proxy the requests: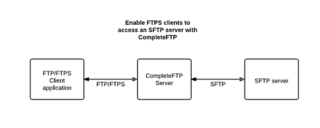 Or maybe your venture still runs older legacy FTP/FTPS servers but you wish to permit SFTP clients to connect, then simply get CompleteFTP to proxy the requests: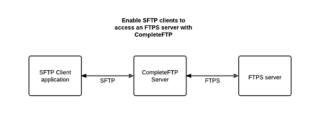 The same can be done with HTTP clients adding yet more customer beneficial connectivity to your business. All of this can save you time and money as you attempt to be as user friendly as you can with the minimum of fuss.
Our Gateway feature helps to set our Enterprise MFT Edition apart from many other similar applications, and it can also help you to improve your service and availability to customers while cutting back on expenditure at the same time! Don't miss out on this great function.