FTPS client & server certificates
One of the most sought after capabilities in a good file transfer server today is the ability to not only supply your server certificate, but in certain cases to also force the client to provide their certificate. With CompleteFTP Professional and Enterprise Edition you can do both. This is great for those businesses looking to primarily use FTPS as their file transfer protocol of choice. Our Standard Edition does indeed support server certificates, but client certificate requests are not supported in that edition.

Of course insisting on a client certificate provides you at the server end, with a higher degree of safeguarding for your file transfer requests, and with our higher end editions you will be more than adequately covered with the advantage of knowing that the client certificate option is protecting your server.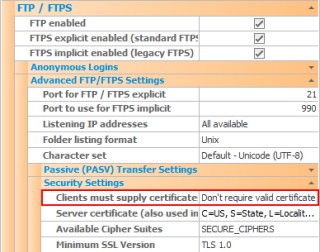 CompleteFTP - The Secure Option
Validating clients has taken on an increasing role in business. It very much depends of course, on the file transfer in question, the trust between the client and server, and the modern increase in demand, for higher security and immunity against rogue clients.

You will be making the best selection, and definitely be choosing the secure option, if you purchase CompleteFTP with it's outstanding configuration potential.