Server SSL (CA) certificate generator
Setting up your server for business? Then you can't realistically move ahead without installing an SSL certificate from a recognized Certification Authority (CA). At EnterpriseDT, we like to make this process as smooth as possible for your busy IT admins. Having this certificate is an integral part of keeping your business transactions secure. SSL is a straight-forward and secure channel to transfer your data safely, both on the web with HTTPS and to secure your FTPS file transfers. Without this certificate you will not be able to operate your business smoothly or to any useful extent, and google even ranks websites according to their ability to provide customers with a secure HTTPS channel.
Reassure All Your Stakeholders
You will most definitely appreciate your customer's concerns when they wish to use your website safely, and your employees and other users, will demand no less when using FTPS. With this powerful encryption tool which these protocols provide, you will find our CompleteFTP user interface simple, straight-forward and easy to use, when you install your first SSL certificate.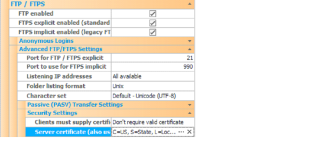 All CompleteFTP editions offer this server certificate functionality, as you would rightly expect. The process is made easy with our comprehensive user guide, which guides you through the CSR (certificate signing request) process, as well as installing the certificate on the server. We also offer the option of 'self-signed certificates', although these are not usually recommended for a business, which generally requires a certificate from a CA. However you choose to proceed, with our fantastic interface, convenient user guide and great technical support, CompleteFTP makes accomplishing this task an effortless experience.