Generate SSL certificate requests
Setting up your server for business? Then you can't realistically move ahead without installing an SSL/TLS certificate from a recognized Certification Authority (CA). At EnterpriseDT, we like to make this process as smooth as possible for your busy IT admins. It is straightforward to generate a request for a certificate that will be accepted by all recognized CAs. Once you have complied with their requirements, they will supply you with your certificate, which is easily installed into CompleteFTP.
Having this certificate is an integral part of keeping your business transactions secure. Without it, you will not be able to operate your website, and of course google requires it for ranking your website in its index.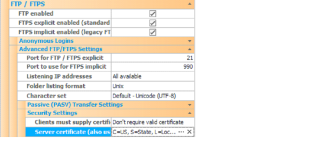 All CompleteFTP editions offer the ability to generate certificates requests. The process is made easy with our comprehensive user guide, which guides you through the steps involved, including installing the certificate on the server once it is received from the CA. For testing purposes, we also offer the option of generating self-signed certificates.