Clustering and multiple servers (load-balancing & fail-over)
One of our most powerful features is the capability of CompleteFTP to cater for your server clustering, failover, redundancy and load balancing requirements. Exclusively available with our CompleteFTP Enterprise Edition, the clustering capabilities we provide for your file transfer needs are thoroughly and reliably developed by our unique and innovative team.
CompleteFTP - Acclaimed for its Attention to Detail
Our clustering configuration is acclaimed for its attention to detail. It provides configuration possibilities which have given CompleteFTP a reputation for reliability, whilst at the same time granting your administrator ample scope to tweak, modify and alter your cluster network.

CompleteFTP Enterprise supplies synchronized and instantaneous server configurations across the cluster. The most suitable architecture is an active/active cluster setup. A single instance of the CompleteFTP Manager can control all the servers in the cluster. An architecture diagram is shown below: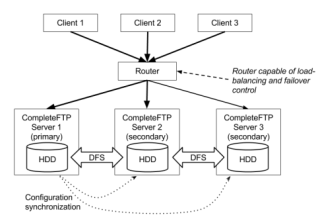 CompleteFTP can take responsibility for synchronizing configuration changes between the servers, and although it does not synchronize the files on the Hard Disk-Drive (HDD) - this is done intentionally, as this task is deferred to Windows DFS. Of course with an architecture where files are stored on network storage, DFS is not required on the CompleteFTP servers, since no user-files need to be synchronized between them.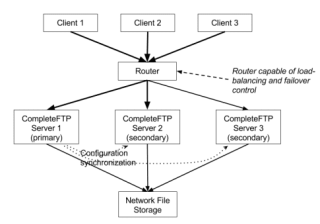 CompleteFTP can Adapt as your Business Grows
With HTTPS sessions, the session caches are replicated across the cluster, alleviating the requirement for a load balancer. Companies today are growing at an exponential rate, so it makes sense to ensure that you choose the right file transfer server which meets not only your current needs, but also which permits your organisation ample space to manoeuvre and grow. A particularly important priority is space to expand your server requirements to include the inevitable demand for clustering. With this in mind, you will find that CompleteFTP Enterprise Edition ticks all the right boxes, and should most definitely be added to your purchasing list!