Switching from CompleteFTP trial to the Free Edition
The CompleteFTP 30-day trial can be switched to CompleteFTP Free Edition very easily. First, select the Licensing tab: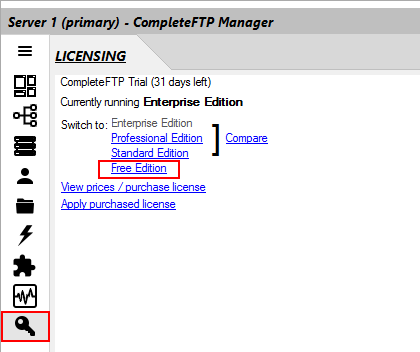 Then in the "Switch to" section, select "Free Edition". When the confirmation dialog pops up, click "Downgrade". Then click "OK" when Downgraded Edition dialog shows up. Finally, click "Apply changes" to complete the switch.
This will switch the edition to Free Edition, but it won't activate the Free Edition meaning that your installation will fall back to 'restricted mode' once the 30-day trial period expires. If you want to use CompleteFTP Free Edition after this you will need to activate it, which you can do at no cost. See our post on Activating CompleteFTP Free for more details.