Activating CompleteFTP Free
CompleteFTP Free Edition will remain fully operational for 30 days from installation without being activated. Activating CompleteFTP Free costs nothing and requires only a valid e-mail address.
To activate open CompleteFTP Manager, select the Licensing tab and click the 'activate for free' link: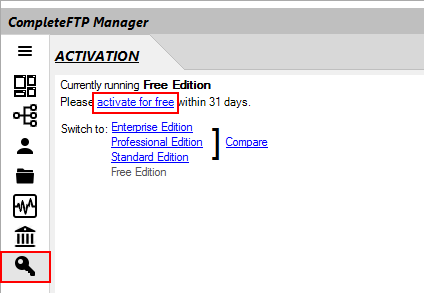 You will then be asked if you already have an account with EnterpriseDT. If you don't then click 'No'.
The User Registration form will now be displayed: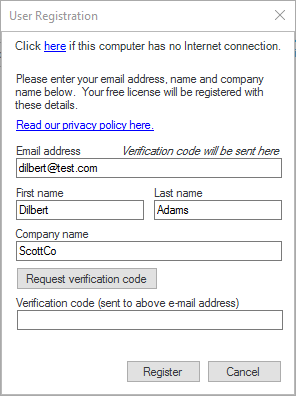 Enter your email address, first name, last name and (optionally) your company name, then click 'Request verification code'.
Now go to your email client and wait a short while until the verification e-mail arrives. This message contains your verification code, which consists of a few lower- and upper-case letters. Copy it into the last field of the verification code field and click 'Register'. After a few seconds your installation of CompleteFTP Free will be complete.
You will now also receive an e-mail containing your user-name and your license ID. You can use the same license ID to register CompleteFTP Free on an unlimited number of machines, as long as you retain your username and have access to the same email address (for setting and resetting your password).
You can also use this account if you decide to purchase a technical support agreement or upgrade to a higher edition of CompleteFTP in future.