Remote administration
One of the most 'administrator' friendly features of CompleteFTP, is the capability to install the CompleteFTP Manager (administration) application separately from the server application. The 'manager application' or 'administration tool' can be installed on as many machines as you wish, in order to make life easier for your administration team. You can even install it outside the local network, although you may need to add firewall rules that permit it to connect to the server via SFTP.
Excellent User-Friendly App
This excellent user friendly app lets you manage and run your CompleteFTP server with efficiency, and with uncomplicated and straightforward ease. It allows you to connect securely to your server with the SFTP protocol to port 14983 (Default) or you can use the FTP/FTPS protocols if wish, by changing the default port for your admin site to 14982.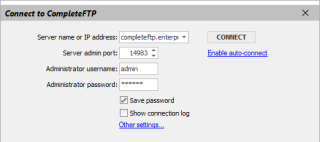 Once connected you will be greeted with a fantastic overview of your server's file transfer setup, including (dependant on edition) servers, sites, users, folders, authenticators.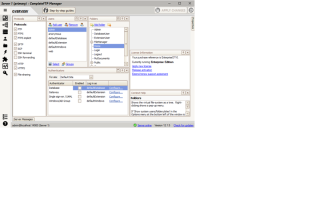 We have not left anything to chance, and if you prefer, we also offer the capability to manage your admin site through our 'Web-Admin' app or you can even use the SSH Command Line utility. (Please see our separate feature page about Using our 'Web-Admin' app.)

Make it the best by choosing our configurable and flexible file transfer server.