Informative user interface
CompleteFTP offers a dashboard style overview, enabling you to see real-time data and assess what is happening quickly and effectively.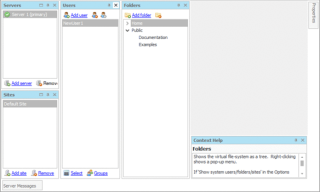 The highly informative overview of CompleteFTP provides administrators with a fantastic bird's eye view of the setup of your file transfer server. Information is provided in panels, with each panel covering servers, sites, users, and folders as well as authenticators, protocols and licensing information. You can even choose your preferred colour. With our range of skins, you can change the look of CompleteFTP and opt for one of up to 8 colours. Each mini panel within the overview is dedicated to a particular function within the file transfer setup, such as 'users'. These individual panels can be expanded or minimised and even detached from the main overview, if that is your wish.
Admin Friendly Overview
Our developers have put their many years of experience into shaping an overview which is admin friendly and which gives you the capability to change your configuration whilst keeping the other panels in view. Of course if you prefer you can also go to the full dedicated panel configuration by simply clicking on the index bar on the right of CompleteFTP.