Informative user interface
CompleteFTP offers a dashboard style overview of the most important configuration settings, enabling you to quickly and effectively grasp how it is set up. Each panel within the overview is dedicated to a particular function such as user configuration.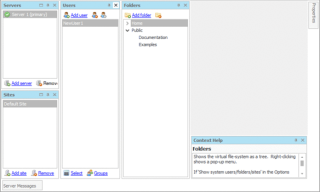 Beyond the overview, the CompleteFTP manager offers detailed configuration capabilities, and this flexibility should satisfy most business scenarios. Each area of functionality has its own dedicated panel, and each individual setting has specific help text available to help users with their configuration choices.

Admin friendly overview
Our developers have put their many years of experience into developing a powerful management application that can remotely administer CompleteFTP servers. We welcome customer feedback, and will do our best to implement features that our customers request.