Azure shared folders
One of our particularly great, sought after features, is the capability to mount 'Azure' Share folders in the virtual file-system of our 'top of the range' CompleteFTP Enterprise Edition. Azure Files is a Microsoft service that offers network drives hosted in the Azure Cloud Computing Platform.

Virtual File-System
Azure Share folders are added to CompleteFTP's virtual file-system in the same way as other folders in the filesystem. It is a great asset for anyone who works with Azure. Our easy-to-use dialogue box will guide you through the process, you just have to enter the account name, access key and the name of the share. You may also specify a directory within the share.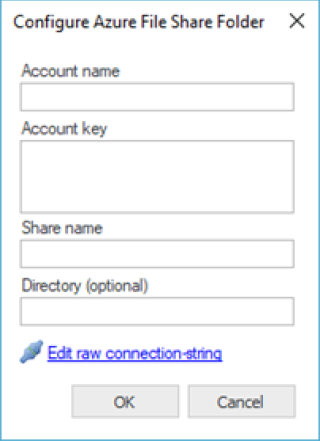 For special cases, it's even possible to enter the raw Azure File connection string. This connection string must contain an AccountName and an AccountKey attribute. Once the changes have been applied, the folder is made accessible to connecting clients.